Online

Diese Prüfung kann nur online wahrgenommen werden.
What is the TOEFL ITP test?
The Test Of English as a Foreign Language, TOEFL® is a globally standardized academic English exam specifically designed for non-native English speakers. The TOEFL ITP® test is part of the TOEFL® family of tests and is used by students, pupils and workers to demonstrate their listening and reading comprehension of academic English.
Test fee for registration more than 7 days before the date
Late registration fee (registration up to 2 days before the exam date)
The preliminary result is displayed immediately after the test is completed. You will receive the score report by post between 7-10 days.
The Test Of English as a Foreign Language, TOEFL®, sets global standards in measuring language proficiency in academic English. The TOEFL ITP® test is part of the TOEFL® family of tests and is designed to provide schools, universities and other organizations with a flexible, affordable and reliable tool for assessing listening and reading comprehension, including grammar, for academic English.
The TOEFL ITP® test is primarily used in non-English speaking countries and should not be confused with the TOEFL® iBT (internet-based test). Both measure academic English at graduate level, but have their differences.
*Currently we only offer the TOEFL ITP test as remote modality (from home)
Stepless placement test with classification into the respective GER* level (no pass-or-fail test)
Remote: on the computer at home
Conducted under certified test leader supervision
Listening: 50 multiple choice questions in 35 min.
Grammar: 40 multiple choice questions in 25 min.
Reading: 50 multiple choice questions in 55 min.
A2 to C1 according to GER*
Verification and certification of current English language skills
Classification, learning progress measurement and final test
Admission criterion for certain courses and short stays abroad (e.g. Erasmus +)
*The possibility of issuing certificates was prohibited by ETS for remote tests in April 2021.
                                                                                                                   Score Report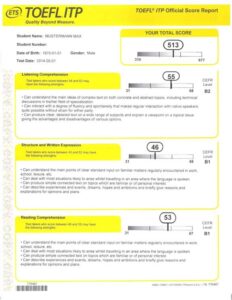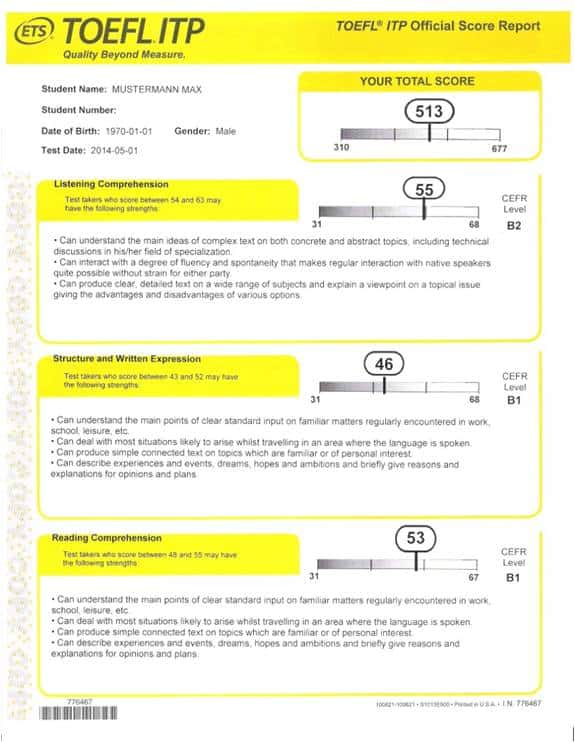 Pre-shipment of test result as PDF and registered mail
* You will receive your result from us as a PDF 4-5 day after your test. In addition, we will send your result as registered mail and send you the tracking number.
* If you would like an individual examination date, an additional fee of 49 euros will be charged. Please note that the lead time is about 7 days. Contact us via email.
Requirements for the test
The following technical and spatial requirements apply to participation in the test:
Instructions for the test
To prepare for the test, we ask you to carry out the following points in advance:
Download the Zoom client for meetings
Check your system requirements
On the TOEFL page, click on the "Check Readiness" link at the top and run the test. Your system is checked during the test (operating system, browser, screen settings, Internet speed). If there are error messages, fix the error and then repeat it until the test is successful.
Download and install the TOEFL Secure Browser
You will find detailed information in the candidate handbook, which you will receive by email after your registration.
You can download the following practice test for free to prepare for the online TOEFL ITP Level 1 test. The TOEFL ITP exercise includes:
2 full TOEFL ITP Level 1 practice tests
Audio files for listening comprehension
Answer key
Rating Information
Learning tips and test strategies
If you want to prepare in more detail, you can use the following book, for example:
You can find more information such as official preparation books, online preparation for the TOEIC exams on the Language & Testing Services (LTS) homepage.
EZplus is a member of the ALTE Association (Association of Language Testers in Europe)


You will acquire your language skills in language courses or through self-study. You can also find exercises on our homepage. Otherwise you can buy the preparation book via the LTS homepage.
You can always see the upcoming dates on our homepage. We usually offer the test every Wednesday and Sunday at 9:30 a.m.
Currently you can pay your exam fee with the following payment methods:
Credit card
PayPal
Klarna Sofortüberweisung
Participation in the exam is confirmed directly with payment.
If you would like to pay by bank transfer, please fill out the online registration form completely. You will then receive the payment information and bank details from us by email. Please note that your booking can only be confirmed after receipt of payment and that the processing time is extended by 2-3 days if you pay by bank transfer.
In addition, personal registration and cash payment is possible during our opening hours. Please arrange an appointment with us by telephone.
You can rebook your exam date at any time. The first rebooking is free as long as you rebook at least 7 days before the exam. Within 7 days and for each additional rebooking we charge a fee of €60.00.
You always have the right to cancel your exam registration within 7 calendar days after you have paid without giving a reason. Please address your revocation exclusively in writing by e-mail to pruefungen@ezplus.de. It is important that you send the notification before the end of the cancellation period.
It may happen that you only register and pay within 7 calendar days before the exam. In this case, you must agree that you can order the test immediately and that your right of withdrawal expires upon fulfillment of the contract, otherwise we cannot register you. If you still cancel before the exam date, EZplus will request a reasonable fee based on the services already rendered. This corresponds to the cancellation fee that we charge for cancellations within 7 days.
If you cancel within 7 days before the start of the exam, we will charge a registration fee of €90.00. If you do not show up for the exam without an excuse, the right to rebooking/cancellation expires. A right to cancellation also expires after a rebooking due to illness.
You will receive the result by post about 7-10 days after the exam.
We do not guarantee that certificates will be sent by Deutsche Post unless you have the score report sent to you by registered mail at an additional cost. If you complain about a score report that was not sent to you by registered mail, we require a copy for the duplicate in the amount of EUR 15.00.
No. The test is a scaled exam, which means that after your exam you can see the score you got on your exam and to which level of the CEFR the score belongs.